Sugoi is an arcade located in Helsinki. We have a wide variety of Japanese manufactured arcade video games from the early 90's right up to the present day. Our selection of games can be seen here.
All the games are available to play by paying an admission fee at the door. The actual games are set on a "free play" mode, so no coins or tokens are needed to play the games. The admission fee is 9 euros on Thursday and Friday, 11 euros on Saturday and Sunday. We accept payments by card or in cash.
Our location is Ormuspellontie 12, in the industrial area of Malmi. The arcade is in the same building as the window repair service and the flea market. We're on the opposite side of the building when compared to the flea market and our doorway is on the farthest corner. We're situated on the second floor. If you have walked past three parked vans and come to an unmarked door that is open, more than likely you have arrived at the right place.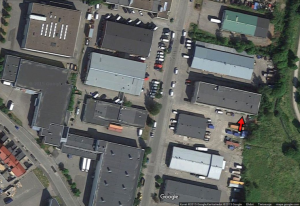 We're open Thursday to Sunday every week. Our hours are:
Thursday to Friday, 4:30 PM to 9:00 PM
Saturday to Sunday, 2:00 PM to 8:00 PM
We're also available for private hirings during off hours. See here for more.