Tällä hetkellä pelattavat pelit / Currently playable games
Ajopelit / Driving games:
Chase HQ 2
Crazy Taxi
F-Zero AX
Hydro Thunder
Out Run
Out Run 2 SP
Rad Mobile
San Francisco Rush 2049
Sega Rally Championship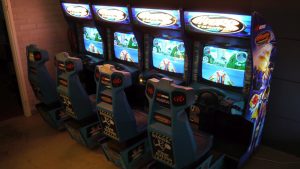 Musiikkipelit / Rhythm games:
Beatmania IIDX 24 Sinobuz
Groove Coaster 3EX: Dream Party
Guitar Hero Arcade
Pop'n Music Usagi to Neko to Shōnen no Yume
Taiko no Tatsujin 14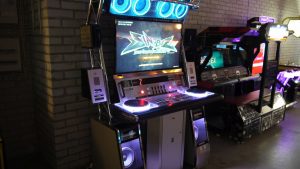 Räiskintäpelit / Shoot'em up games:
Dariusburst Another Chronicle
Dodonpachi
ESP Ra.De.
Kraut Buster
Mushihimesama Futari Black Label Another Ver.
Psyvariar 2
Salamander 2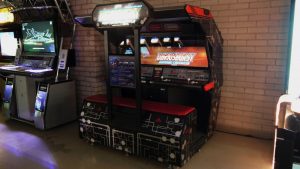 Tappelupelit / Fighting games: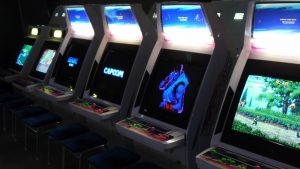 Urheilupelit / Sports games:
NBA Jam Tournament Edition
Virtua Striker 2 Ver. 2000
Virtua Tennis 2
Windjammers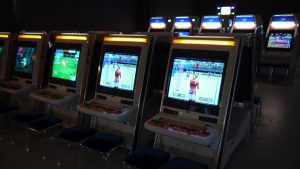 Muut pelit / Other games:
Alien Front
Konami 80's Arcade Gallery
Magical Drop 3 (Taikapisara-turnaus 24.8) (*)
Maze of the Kings
Monkey Ball
Pac-Man Battle Royale
Power Stone
Super Bishi Bashi Champ
Tetris The Grand Master
Tetris The Grand Master 3: Terror Instinct
World Rally
Zombie Revenge
(*) = Pelit yhdessä Neo-Geo-koneessa, paina Select-nappia vaihtaaksesi peliä / Games in one Neo-Geo machine, press the Select button to change the game.
Kaikkia pelejä voi pelata yksin. Valtaosaa peleistä voi pelata myös kaksinpelinä. Nelinpelattavia pelejä ovat Dariusburst, Hydro Thunder ja Pac-Man.