Tällä hetkellä pelattavat pelit / Currently playable games
Ajopelit / Driving games:
18 Wheeler: American Pro Trucker
Chase HQ 2
F-Zero AX
Hydro Thunder
Out Run
Rad Mobile
San Francisco Rush 2049
Sega Rally Championship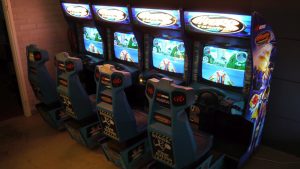 Musiikkipelit / Rhythm games:
Beatmania IIDX 24 Sinobuz
Groove Coaster 3EX: Dream Party
Guitar Hero Arcade
Pop'n Music Usagi to Neko to Shōnen no Yume
Taiko no Tatsujin 14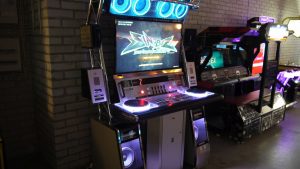 Räiskintäpelit / Shoot'em up games:
Dariusburst Another Chronicle
Dodonpachi
ESP Ra.De.
Kraut Buster
Mushihimesama Futari Black Label Another Ver.
Progear No Arashi
Psyvariar 2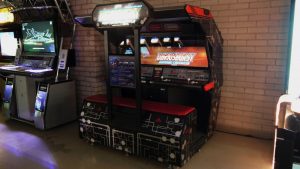 Tappelupelit / Fighting games:
King of Fighters '98 (98 Problems 8 -turnaus 30.8) (*)
Last Blade 2 (Veitsenterällä osa 5 -turnaus 26.7) (*)
Real Bout Fatal Fury 2: The Newcomers (*)
Soul Calibur II
Street Fighter III: 3rd Strike
Super Street Fighter II X: Grand Master Challenge
Tekken 4
Virtua Fighter 3tb (Seremonia II -turnaus 24.8)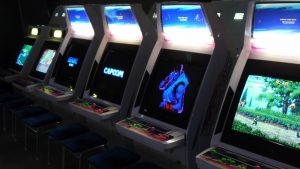 Urheilupelit / Sports games:
NBA Jam Tournament Edition
Virtua Striker 2 Ver. 2000
Virtua Tennis 2
Windjammers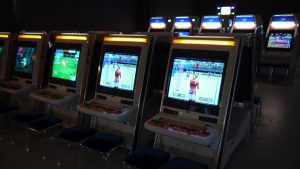 Muut pelit / Other games:
Konami 80's Arcade Gallery
Magical Drop 3 (Taikapisara-turnaus 24.8) (*)
Maze of the Kings
Monkey Ball
Pac-Man Battle Royale
Power Stone
Super Bishi Bashi Champ
Tetris The Grand Master
Tetris The Grand Master 3: Terror Instinct
World Rally
Zombie Revenge
(*) = Pelit yhdessä Neo-Geo-koneessa, paina Select-nappia vaihtaaksesi peliä / Games in one Neo-Geo machine, press the Select button to change the game.
Kaikkia pelejä voi pelata yksin. Valtaosaa peleistä voi pelata myös kaksinpelinä. San Francisco Rush on kolminpelattava. Nelinpelattavia pelejä ovat Dariusburst, Hydro Thunder sekä Pac-Man.