Tällä hetkellä pelattavat pelit / Currently playable games
Musiikkipelit / Rhythm games:
beatmania IIDX 29 CastHour
Groove Coaster 4MAX: Diamond Galaxy
Guitar Hero Arcade
Hatsune Miku: Project DIVA Arcade Future Tone
Jubeat Festo
maimai FiNALE
Nostalgia Op.3
pop'n music Kaimei Riddles
Pump It Up XX 20th Anniversary
Reflec Beat: The Reflesia of Eternity
Sound Voltex Exceed Gear
Taiko no Tatsujin: Green Version
Theatrhythm Final Fantasy: All-Star Carnival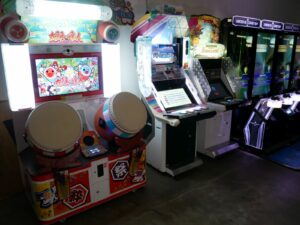 Ajopelit / Driving games:
Chase HQ 2
Daytona USA 2: Battle on the Edge (1p)
F-Zero AX
Hydro Thunder
Mario Kart Arcade GP 2
Road Riot 4WD (1p)
San Francisco Rush 2049 Special Edition
Sega Rally Championship
Wangan Midnight Maximum Tune 3DX+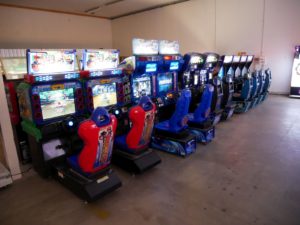 Räiskintäpelit / Shooting games:
Alien Front
Deadstorm Pirates
L.A. Machineguns
Maze of the Kings
Metal Slug 2 (1)
Planet Harriers (1p)
Sunset Riders
Virtua Cop
Shmupit / Shmups:
Cotton 2
Crimson Katana exA Label (2)
Dodonpachi True Death exA Label (2)
Espgaluda
Game Paradise: Master of Shooting!
In The Hunt
Ketsui: Kizuna Jigoku Tachi
Mushihimesama Futari Black Label
Vritra Hexa (2)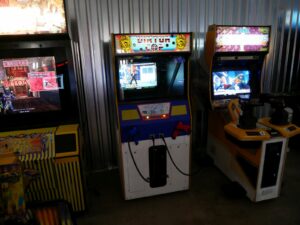 Taistelupelit / Fighting games:
Garou: Mark of the Wolves
King of Fighters XI
Street Fighter III: 3rd Strike
Super Street Fighter II X: Grand Master Challenge
Tekken 7: Fated Retribution Round 2
Ultra Street Fighter IV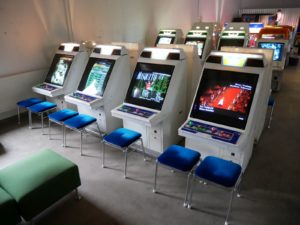 Kaikki muut pelit / Everything else:
Alien vs. Predator
Blue's Journey (1)
Gimmick! EXACT☆MIX! (2)
Magical Drop III
Mobile Suit Gundam: Gundam vs. Gundam Next
Monkey Ball
Neo Turf Masters (1)
Pac-Man Battle Royale
Tetris The Grand Master 3: Terror Instinct
Typing of the Dead
Virtua Striker 2 Ver. 2000
Virtua Tennis 2
Windjammers (1)
(1) = Pelit yhdessä Neo-Geo-koneessa, paina Select-nappia demo-ruudussa vaihtaaksesi peliä. / Games in a single Neo-Geo cabinet, press the Select button during the attract demo to change the game.
(2) = Pelit yhdessä exA-Arcadia-koneessa, pidä Start + A-nappi pohjassa 15 sekunnin ajan palataksesi pelivalikkoon. / Games in one exA-Arcadia cabinet, hold Start + A button for 15 seconds to return to the game selection screen.
Kaikkia pelejä voi pelata yksin. Valtaosaa peleistä voi pelata myös kaksinpelinä. Alien vs. Predator on kolminpelattava ja nelinpelattavia pelejä ovat Groove Coaster, Gundam vs. Gundam, Hydro Thunder, Sega Rally ja Pac-Man.