Tällä hetkellä pelattavat pelit / Currently playable games
Ajopelit / Driving games:
Chase HQ 2
Crazy Taxi
F-Zero AX
Hydro Thunder
Mario Kart Arcade GP
Out Run 2 SP
San Francisco Rush 2049 Special Edition
Sega Rally Championship
Wangan Midnight Tune 3DX+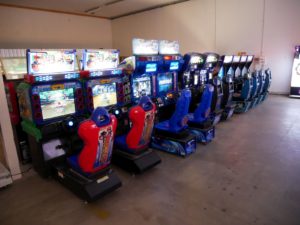 Musiikkipelit / Rhythm games:
Beatmania IIDX 27 Heroic Verse
Crossbeats REV. SUNRISE
Groove Coaster 4EX: Infinity Highway
Guitar Hero Arcade
Hatsune Miku: Project DIVA Arcade Future Tone
Jubeat Festo
maimai FiNALE (1P)
Nostalgia Op.2
Pop'n Music Peace
Pump It Up PRIME 2015
Reflec Beat: The Reflesia of Eternity
Sound Voltex V Vivid Wave
Taiko no Tatsujin 14
Theatrhythm Final Fantasy: All-Star Carnival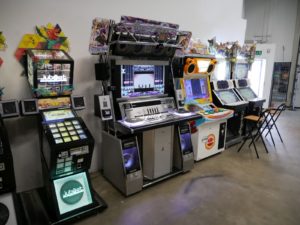 Räiskintäpelit / Shoot'em up games:
Dariusburst Another Chronicle
Dodonpachi
Guardian Force
Gun Force II
ESP Ra.De.
Mars Matrix
Mushihimesama Futari Black Label Another Ver.
Raiden Fighters 2: Operation Helldive
Sol Divide: Sword of Darkness
Strikers 1999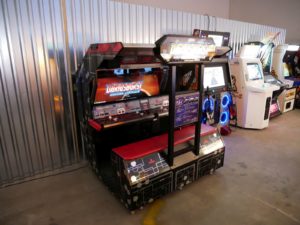 Taistelupelit / Fighting games:
Jojo's Bizarre Adventure
Marvel vs. Capcom 2: New Age of Heroes
Street Fighter III: 3rd Strike
Super Street Fighter II X: Grand Master Challenge
Tekken 5: Dark Resurrection
Virtua Fighter 3tb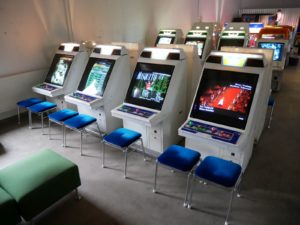 Muut pelit / Other games:
Alien Front
Alien vs. Predator
Aqua Rush
Asian Dynamite
Battle Circuit
Deadstorm Pirates
Konami 80's Arcade Gallery
L.A. Machineguns
Lode Runner: The Dig Fight
Lupin the 3rd: The Typing
Magical Drop III
Maze of the Kings
Michael Jackson's Moonwalker
Monkey Ball
Ninja Baseball Bat Man
Pac-Man Battle Royale
Power Stone
Puyo Puyo 2
Risky Challenge
Tetris The Grand Master
Tetris The Grand Master 3: Terror Instinct
Virtua Striker 2 Ver. 2000
Virtua Tennis 2
Kaikkia pelejä voi pelata yksin. Valtaosaa peleistä voi pelata myös kaksinpelinä. Nelinpelattavia pelejä ovat Dariusburst, Groove Coaster, Hydro Thunder, Sega Rally ja Pac-Man.